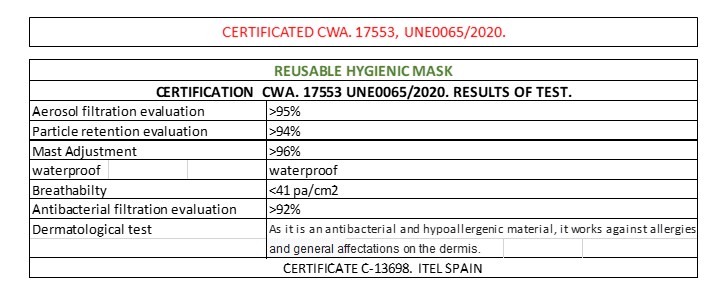 Studies have shown when compared to cotton, polyester, and other fabric masks, silk has been found to be the most protective. Silk is particularly effective (considering their sheerness) at excluding particles in the nanoscale regime (<~100 nm), likely due to electrostatic effects that result in charge transfer with nanoscale aerosol particles.
Use it as a reusable washable adjustable face mask, workout mask, sport mask,cloth mask, running mask, face covering, face protection or outdoor face cloths.It can go well with any outfit you plan to pull off. There are so many occasions for use, such as running, ski, biking, fishing, hiking and all kinds of outdoor sports. You can even wear it in a wedding ceremony. Laboratory testing has shown that on average our coverings do have a better filtration efficiency. If worn properly, they will block the majority of air particle and droplets, keeping them from reaching the mouth and nose.
HOMOLOGATED CERTIFIED reusable hygienic silk mask. CERTIFIED According to European regulations CWA 17553 and UNE 0065/2020.
· OUTER LIYER SILK
· Double integrated filter. DO NOT REMOVE.
· Inner layer in contact with the skin: 100% silk.
· Adjustable elastic on the ears, option to tie it at the nape to be able to leave the mask hanging like glasses.
· Antibacterial an hypoallergenic, escpecially suitable for people with acne and skin problems.
WASHING INSTRUCTIONS:
· Hand wash, holds up to 80 washes. Iron without steam to desinfect.